Corner house bed with a window and 1 drawer.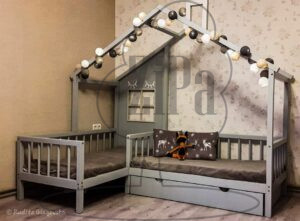 Corner house bed with box and drawer – sleeping dimensions 140×70 cm, round slats. Right-hand bedas a sofa, without front railing.
A drawer under the right-hand side of the bed, which can be used as a third bed by inserting a mattress or as a play area to keep things tidy by using the drawer as a place to store and play with toys.
The drawer has a stoppage at the end to prevent it from being pushed deeper than it is designed to go. The window is made from one large piece of birch plywood, with decorative mouldings on top.
The cot is made of glued branch-less pine, which has been produced especially for our needs. The drawer, window and slats under the mattress are made of birch plywood.
The cot is painted with child-safe water-based paints that are certified and meet European standards.
The slats for the cot are available in four types Firstly round, as shown for this particular bed. Other possible types of slats are: horizontal slats, squere-thick, i.e. the same thickness as the structural timbers, and squere-thin, i.e. half the thickness of the structural timbers.
The bed can be painted in different shades, including multiple shades.
All cots, but especially this one, look fantastic with different decorations such as lights, flags and other accessories.
In this layout, we recommend sleeping dimensions up to 160/180 cm long, but by adding an extra support option, we can make the same bed with larger sleeping dimensions.
If you would like to order such a cot, or if you have any other questions, please contact us and we will be happy to answer your questions and make it for you!
You can order this bed in any colour and size by sending us a message down here!