White bunk bed with safety gate.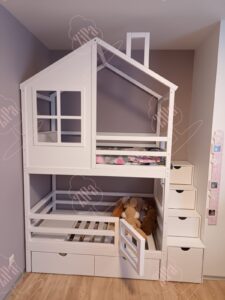 The white bunk bed with safety gate is a very small, extra-small bunk bed.
The first-floor sleeping area is equipped with a safety gate that can be closed for extra baby safety.
This beautiful bunk bed has a type 2 roof, an elegant chimney and a window on 2. floor.
For the bunk bed, customers chose horizontal slats, a four-pane window and decorative mouldings. Under the bed, as well as in each step of the podium, there are roomy full-sized drawers – each drawer in the podium is a different size, larger one at the bottom, smaller and smaller at the top.
The bed's load-bearing parts, slats and chimney are made from premium glued solid pine beams, which are made from a specially treated, branchless material.
The wall with window, drawers, podest and slats under the mattresses are made of the finest birch plywood.
Like all our furniture, this white bunk bed is painted with child-safe water-based paint and treated to be safe for the kids during play and sleep!
The new owners wanted this cot in white, but we can make it in any other colour, you can see our colour catalogue here!
We can adjust the size of the beds to your needs and to the size of the nursery. For this beautiful bed, the clients had chosen a specific size alcove, so the mattress size was very small – 140×80 cm, but if your home does not have such restrictions, we can make larger sizes.
You can order this bed in any color and size by sending us a message down here!